Uncategorized
Why A Professional Backpack for Work Will Be Your Best Friend
When I'm on the train going to or coming from work, and I see someone with a messenger or purse, I want to shake them and introduce them the glories of a backpack. I've used many work bags as a professional backpack for work, but I need a new bag. I read Luxe With Kids' article on the work backpack and I gotta say–this is a nice substitute for a messenger bag, and here's why.
Last year, I experienced some serious shoulder pain and my posture wasn't looking too good either. One of the reasons for this was thatI was carrying way too much stuff with very little support from my bag. In the end, I decided that a backpack might be better for my health.
But I gotta say, I didn't think a backpack would be work appropriate, at first. After hours of searching through the Internet, though, I finally found what I was looking for.
But hey, why keep all the fun for myself, right? If you are thinking of getting a new work bag, I'll explain how and why you should consider opting for a backpack.
So, What is a Professional Backpack?
Ah, now that's the question. Technically, if you're a professional, any backpack can be a "professional backpack." But generally speaking, when people talk about a professional backpack they refer to a sleek, minimalist, office-friendly style of backpack.
Instead of a clunky, heavy-looking middle school bag, professional backpacks look more grown up. The misconception that people have, however, is that ALL backpacks are childlike.
But that's just not true.
[A Backpack] is the best way to tote your gear – whether you're a college student or a corporate warrior. ~ GQ
Backpacks can be office appropriate too. The key is to know where to look and what to look for. I'll discuss that more below, but here are some key things to remember.
First, always buy straight from the company or from a reputable source. The reason I say this is because I cannot count how many times my friends have been duped by online sellers. Amazon is usually a safe bet, and so is Etsy, Ebags, Overstock, to name a few, but beware!
Another way to ensure that the distributor can be trusted is by looking for reviews. If there are no reviews, that's a red flag! Reviews are a good way to find out more about a product. Before you make a purchase, look at as many reviews as you can, from as many sites as you can.
Another great online buying tip is to look at a site's return and shipping policies. Some companies are international which makes shipping and returns a lot harder or more expensive. If you can, try looking for companies that offer free shipping or exchanges, as this will make it easier for you to choose the right bag.  Zappos is fantastic about returns.
Once you've found a good seller, it's time to choose the right bag. Luckily for you, there are a wide variety of options when it comes to a professional backpack for work. For instance, you can choose the right material suited for your needs. If that means you want a leather professional backpack for work, guess what, they make those! And I guarantee you can find the best bag for your price range.
But why a professional backpack? A briefcase, messenger bag, or a tote purse can do the job just fine? Well, even though those are all viable options, there are some benefits of a backpack that you just can't get from those other options.
First and foremost, nothing can top the comfort of a backpack. Aside from comfort, you should also take into consideration how convenient a backpack can be for those who commute. Just think about it. A backpack will make your transfer from the bus, to the train, to the bus, much easier for you and those around you. Simply put, it's the best option for the busy bees of the world that need both their hands.
But if you're not convinced that a professional backpack for work goes above and beyond, here is something you should know: a backpack is much more versatile than you think.
Make Use of Your Professional Backpack for Work and More
Using a professional backpack for work is the smart move for any hard working individual. That's because backpacks make organization a piece of cake. Whether you're a student, intern, young professional, one of the main things to prioritize is getting yourself organized.
If you didn't already know, backpacks come stocked with many compartments and plenty of space for all your things. If you plan to use a professional backpack for work, you'll be doing yourself a favor. Allocating your items, for one, becomes a simple task. Instead of wasting time digging through a purse or messenger bag, you'll find what you need in no time. I just think of the times that I've spent digging through my bag trying to find my stupid bus pass, while holding up the line. (It's embarrassing).
Another way that a backpack comes in handy for work is that you're able to carry so much more, without looking like the hunchback of Notredame. Let me put it this way: when a bag or purse is over-stuffed, it looks pretty obvious and ridiculous. Having an overpacked-looking bag tends to happen when purses and messengers just don't have enough space. As a result, you have an oversized purse that looks like a garbage bag or a thick messenger that feels (and looks) like a hammer throw.
Neither is a professional look, but there is place and a time for that type of bag.
But a backpack is a different story. Backpacks hold their frame no matter what you pack inside. So you can pack away rest assured that you won't look like a middle-schooler.
A backpack has many perks, another one of which is the safety it offers to your belongings.
Protection against weather conditions is a feature many of these bags have, and it's convenient as hell.
For instance, if you're a graphic designer, I imagine your job involves carrying a lot of valuable equipment with you. Now, let's say you commute on top of that. Whether that involves biking or public transportation, it's the most convenient way to carry all your valuable equipment.
When you use a professional backpack for work, your items are more likely to remain safe and here's why. Professional backpacks, in particular, are built with better quality materials, that means better zippers, exterior/interior, etc. In comparison to a regular backpack, a high-quality professional bag won't let you fall victim to theft. Of course, it's always important to keep aware of your surroundings, but knowing that your items are secure puts you at an ease of mind.
Now, if you still want to hang on to your purse or briefcase, hear me out on this last part.
Not only is a professional backpack for work useful, but it can also double as a daypack, a carry-on, a camera bag, you name it. Professional backpacks will last you a long time, while also looking casual. Think of it as a bag that you can dress up or down: it goes with everything.
So if you're still hesitant on making the investment, don't be. It's something you'll actually get some use out of. Now, let's get down to the nitty-gritty of picking the right bag.
 Work Bag Styles to Choose From
Picking the right professional work bag is as important as picking the right work clothes. Different jobs call for different dress codes. Same goes for bags. You want to pick something that is suited for your daily needs and that can last you a long time. That said,  now's not the time to be cheap.
The first step to picking a backpack for work is to consider what style you might be interested in. To help you get started, here are some popular options you can choose from:
Laptop Backpack
A laptop backpack is exactly what it sounds like, a backpack for your laptop. But while most backpacks nowadays come with a laptop sleeve, that doesn't necessarily make them a "laptop backpack." A professional laptop backpack is typically equipped with a padded laptop sleeve compartment,
providing absolute security for your laptop. Some laptop sleeves are inside the main pocket with an elastic edging to keep your computer safe. Other backpacks dedicate an entire compartment just for your laptop, which I think is more convenient.
And though these bags come in different styles, they are all ultimately made to carry your electronics. Or at least, they should be. Make sure that when you're looking for a good laptop backpack, that somewhere in the product description there is mention of padding protection. The problem with most bags is that there isn't enough padding, causing items inside to shift around. Sure, you're stuff is bound to move around anyways, but the important thing is to cushion your gear when it does move. This lessens potential damage to your items, including scratches and bumps.
Another great thing to mention about these types of bags is that they are great for anyone who's traveling with a laptop. I mean, I know I'm at ease if I know my laptop is safe. Bottom line, a laptop backpack is a versatile option that's appropriate for any setting.
Top Flap Backpack
Top flap backpacks offer a more casual look while still looking professional. They come in different sizes, colors, and materials. Pretty much, any variation you can think of there's bound to be one of these bags out there for you. If you're a guy, no worries, there are options for you too. With the minimalism takeover in the fashion industry, top-flap backpacks, now, are a trendy item for both men and women.
One thing to keep in mind about these bags is that they are smaller than a typical backpack. But hey, that's their charm. If you don't need too much space on the daily, then this style of bag might be the right one. I would strongly advise, however, that you try to buy from a reputable source. The reason being that because these bags have grown in popularity, so have their counterfeit counterparts. Just remember, if it sounds too good to be true, it probably is, especially in the online world.
Rucksack Backpack
Like the top flap backpack, the rucksack is a casual option perfect for the urban professional. Now, I know what you're thinking. Aren't rucksacks those slouchy, canvas bags. In the past, rucksacks were known to be made of canvas or a similar material. Today, they come in more durable materials, making them the perfect option for commuters. This modern looking option has more space than the top flap backpack without looking too big, maintaining a professional style.
Designer Bags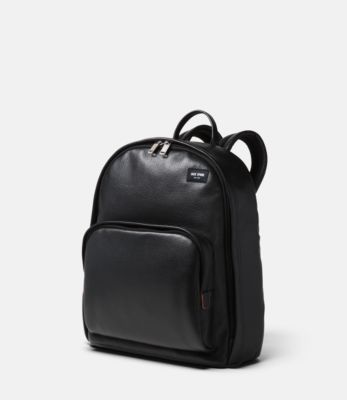 If your spending budget is big enough, a designer bag could be an option for you. Big brands like Burberry, Givenchy, and Michael Kors offer a grand variety of leather backpacks. Other materials that designer brands use for backpacks are nylon, suede, coated canvas, etc.
Whatever you choose to be your professional backpack for work, you'll get more use out of it than you would a messenger bag or purse, I guarantee it. Why? Because you'll be able to pack more of what you need, without looking silly, that's why.
How to Organize What You Pack In Your Backpack
Remember what I said about backpacks being great for organization? Ok, let's revisit that point again, shall we?
One major benefit that I've seen from using a backpack for work is how easy it's been to organize and locate my things. Especially on days when I'm rushing out the door, I can glance inside my backpack and easily realize what I'm forgetting to bring. So it you're crazy and into organization like I am, I'll share how I organize my bag. And keep in mind, this system can work with pretty much any bag.
Front Zipper Pocket (for small or flat objects)
Front Pocket (with interior pockets)
Smartphone
Wallet
Business card holder
Pens
Pocket tissues
Hand wipes
Small lotion
Travel deodorant or body spray
Loose change
Tide to go (because you can never be too safe)
Floss
Altoids
Clif Bar
Aspirin
Side Pockets
Water bottle
Gloves in the winter
Additional Small Outside Pockets
Sunglasses
Gum
A dollar or two
Main Compartment
Laptop
Nexus Tablet
Noise cancelling headphones
Large Moleskin notebook
Folder
Book
Other solid snacks or foods
Interior Pockets
Oh look, more pens!
Small Moleskin notebook
Secondary Smaller Compartment
Cables
External hard drive
Portable charger
This is a condensed list of stuff, but holy hell, do you see how much I carry? But it sure doesn't feel that way, I'll tell you that. My back and shoulders feel NOTHING, and I used to carry a messenger so I know pain.
Parting Words about Your Professional Backpack
That's it folks! Bottom line, I find that a professional backpack for work has helped me a lot on the daily and I think it can do the same for you. Got a question? Leave me a comment and I'll get back to you soon.